Negroamaro
The village folk still call it Niuru Maru: Negroamaro, meaning bitter black (red).
In another era, Negroamaro was grown solely to ship to the north of Italy where the colder climate made it challenging to obtain the desired color and alcohol levels in the wines they produced. But in recent decades, more and more Salento wineries have looked to the variety as one of the most noble expressions of Pugliese viticulture.
Thanks to its vibrant acidity and its wonderful balance of fruit and earth flavors, the popularity of Negramaro only continues to grow — among winemakers and wine lovers alike.
Cantele's barrique-aged Teresa Manara Negroamaro is widely considered to be a benchmark for the category and the winery's Salice Salentino, also made using a selection of top fruit, is once its most critically acclaimed wines in the U.S. today. Cantele also uses Negroamaro to make youthful, fresh wine and a rosé, both of which are also favorites among our American friends.
| | |
| --- | --- |
| CLASSIFICAZIONE | I.G.T. Salento. |
| UVE | Negroamaro. |
| ZONA DI PRODUZIONE | Guagnano (Le). |
| ALLEVAMENTO | Spalliera (cordone speronato). |
| EPOCA DI VENDEMMIA | Metà settembre. |
| VINIFICAZIONE | Macerazione per 6-7 giorni con fermentazione a 24-25°C. |
| AFFINAMENTO | In serbatoio d'acciaio fino all'imbottigliamento. |
| INVECCHIAMENTO | Vino pronto, con delicate evoluzioni olfattive nei successivi 2-3 anni. |
| SERVIRE A | 16°C. |
| | |
| --- | --- |
| CLASSIFICATION | I.G.T. Salento. |
| GRAPE VARIETY | Negroamaro. |
| PRODUCTION AREA | Guagnano (Le). |
| TRAINING | High-trained (4,500 plants per hectare). |
| HARVEST | Mid-September. |
| | |
| --- | --- |
| MACERATION | The must macerates with skin contact for 6-7 days. |
| VINIFICATION | Fermentation is carried out at 24-25° C. |
| AGING | The wine is aged in stainless-steel vats until bottling. |
| AGING POTENTIAL | Ready to drink. Aromatic evolution over the next 2-3 years. |
| SERVE AT | 16° C. (61° F.). |
Tasting Notes
COLOR: Intense ruby red with tender, soft hints of violet.
NOSE: Red fruit with delicate herbaceous notes with a wide range of aromas, including sour cherry, red prune, and thyme followed by flint.
PALATE: The flavor of this wine is defined by its balance of delicacy and alcoholic content set against its minerality and freshness. Nuanced and persistent, it starts out softly and evolves into a delicate yet confident finish with classic Negromaro notes.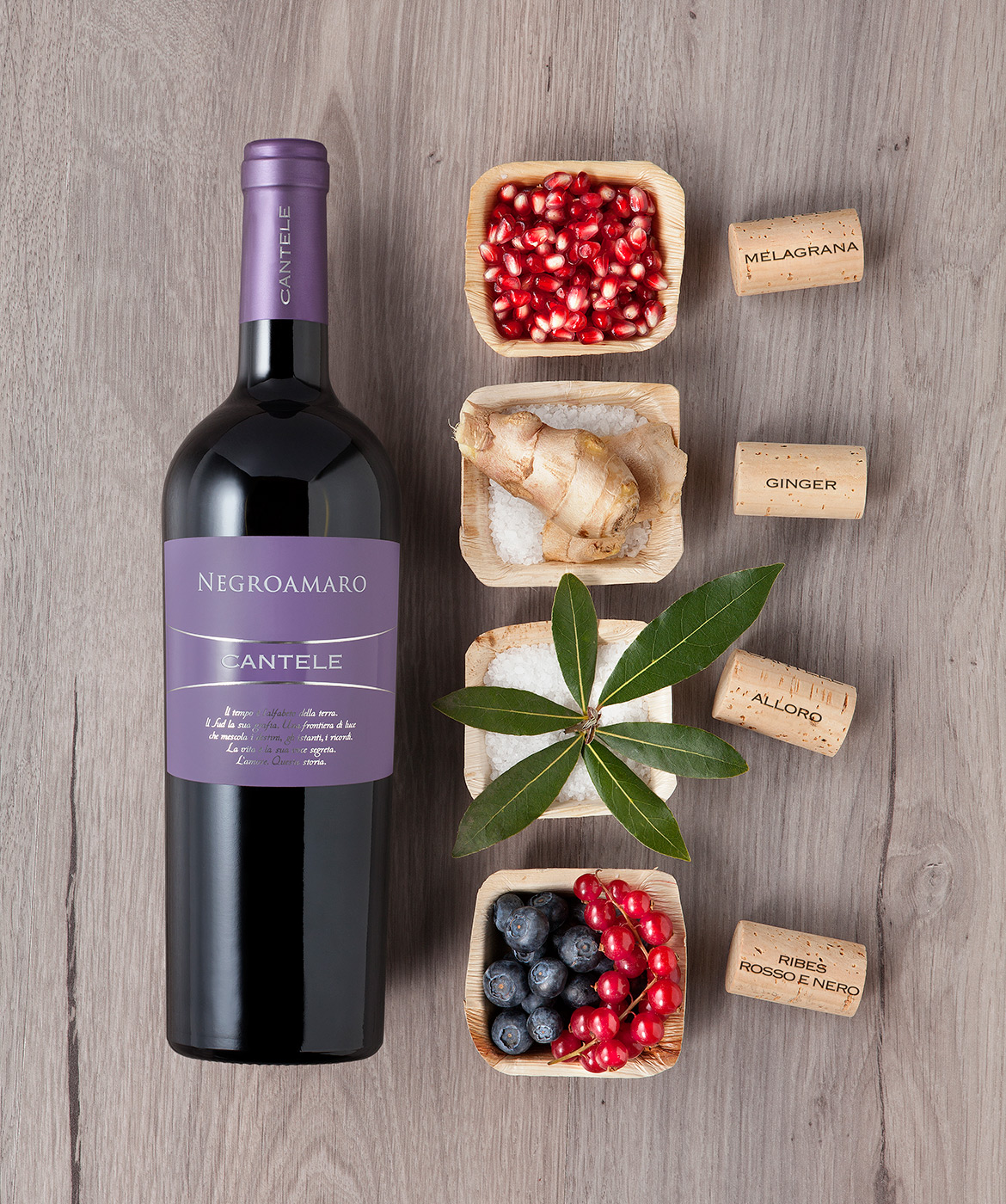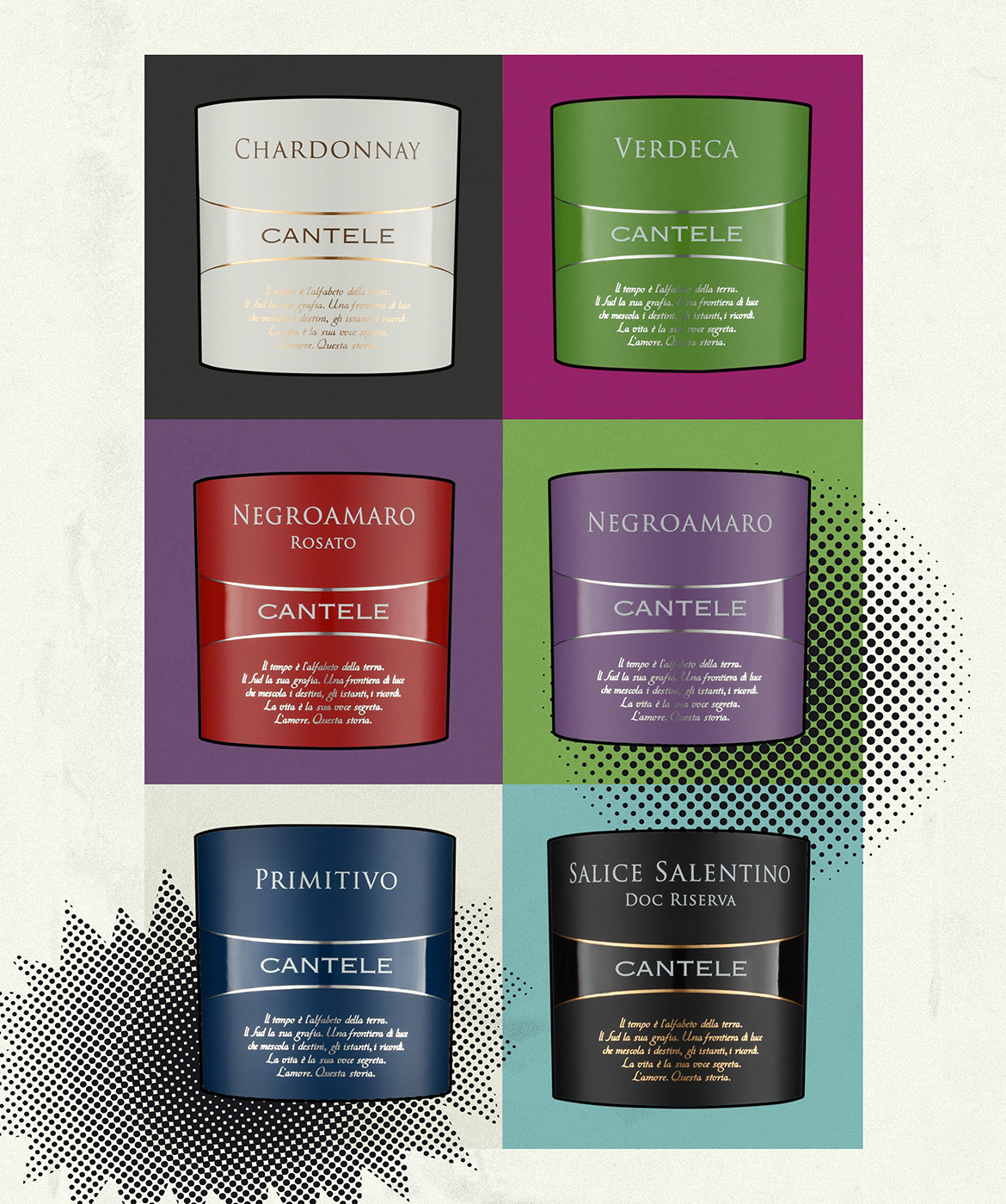 Wine Art
Just like domino tiles, the rich colors of the Cantele labels line up like a work of art by Andy Warhol.
But while Warhol liked to depict the same subject with different colors, here are the actual labels in an image that celebrates the Cantele line of wines, a style that like to call "POP."