Verdeca
On the heels of Cantele's success with its Chardonnay, it was only natural that the winery would look to native grape varieties of Puglia when it decided to expand its line of whites. Until recently, Puglia was known only for its famous red varieties, their earth- and fruit-driven flavors, and their remarkable balance and food-friendliness.
But as the interest in indigenous grapes has swept the region (and the world), Cantele decided it wanted to create a Verdeca that would be a benchmark for the variety. The resulting wine is yellow-straw in color with hints of green, fresh and bright in the glass with mouthwatering acidity and citrus and stone fruit flavors. A wonderful note of minerality is the perfect counterpoint to the wine's vibrant fruit, making it all the more versatile and compelling at the table.
In recent years, many Pugliese chefs have started to incorporate elements of Japanese cuisine into their cooking and sushi is more popular than ever in Lecce, a city already celebrated for its restaurant scene. The Cantele Verdeca couldn't be a better pairing for these flavors from the east.
| | |
| --- | --- |
| CLASSIFICAZIONE | I.G.T. Puglia |
| UVE | Verdeca |
| ZONA DI PRODUZIONE | Alberobello (Ba). |
| ALLEVAMENTO | Spalliera (cordone speronato). |
| EPOCA DI VENDEMMIA | Seconda metà di settembre. |
| VINIFICAZIONE | Pressatura soffice e fermentazione alcolica in acciaio a 14°C. |
| AFFINAMENTO | In serbatoio d'acciaio fino all'imbottigliamento. |
| INVECCHIAMENTO | Riesce a mantenere la sua freschezza fino a due anni. |
| SERVIRE A | 11°C. |
| | |
| --- | --- |
| CLASSIFICATION | I.G.T. Puglia |
| GRAPE VARIETY | Verdeca |
| PRODUCTION AREA | Alberobello (Ba). |
| TRAINING | Spur-pruned cordon-trained. |
| HARVEST | Second half of September. |
| | |
| --- | --- |
| VINIFICATION | Grapes gently pressed.  Must cooled to 8°C. |
| FERMENTATION | In stainless-steel vats at 15°C. |
| AGING | In stainless-steel vats. |
| AGING POTENTIAL | it will maintain its freshness for up to 2 years. |
| SERVE AT | 11° C. (52° F.). |
Tasting Notes
COLOR: Intense straw yellow with hints of green.
NOSE: Intense and persistent. Fruity with clean notes of quince, elderberry, and pear tree aromas. Classic balsamic finish with notes of rosemary and sage.
PALATE: Intense, clean, and fresh with a light aromatic note. Seductive, persistent finish with aromatic complexity.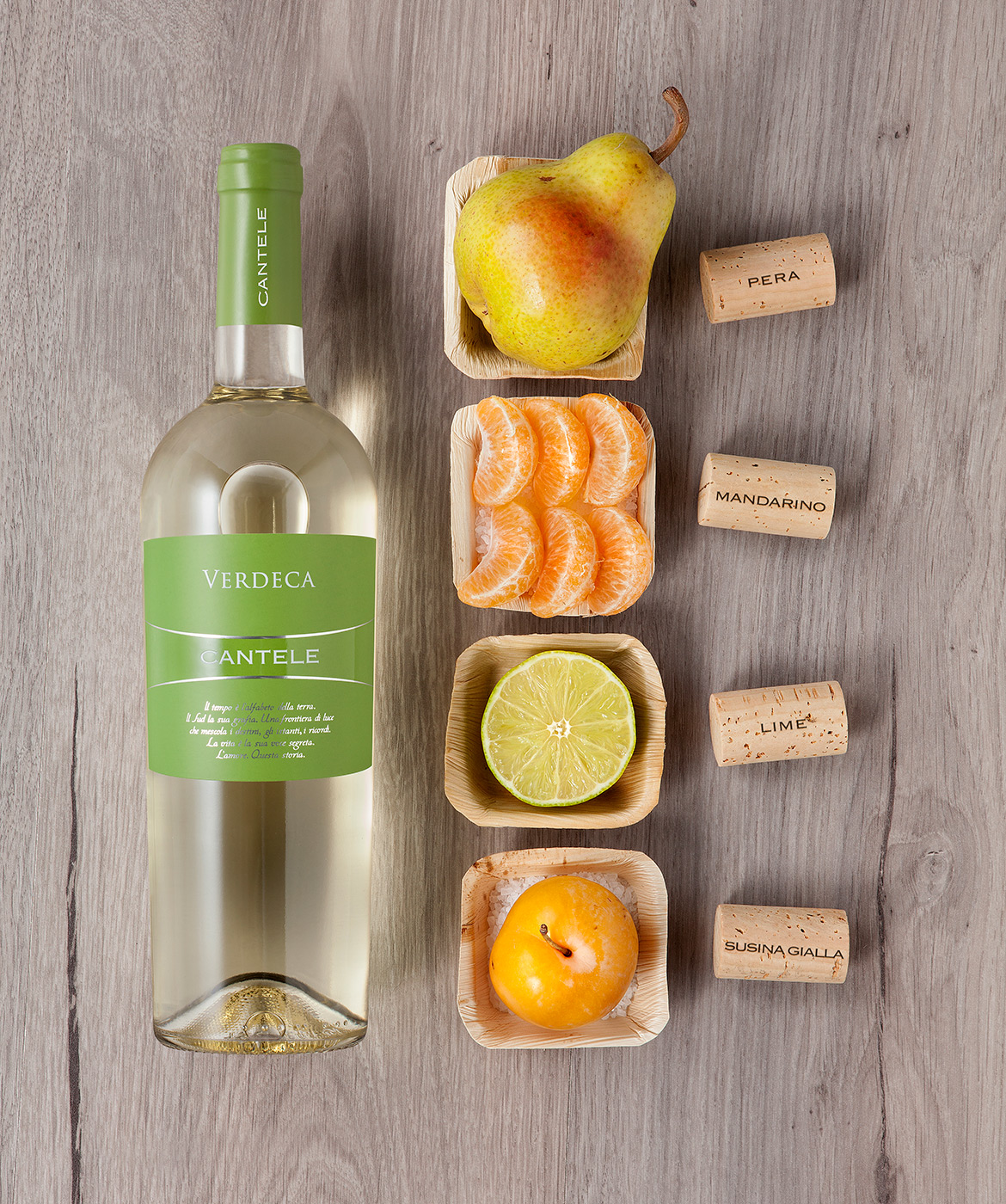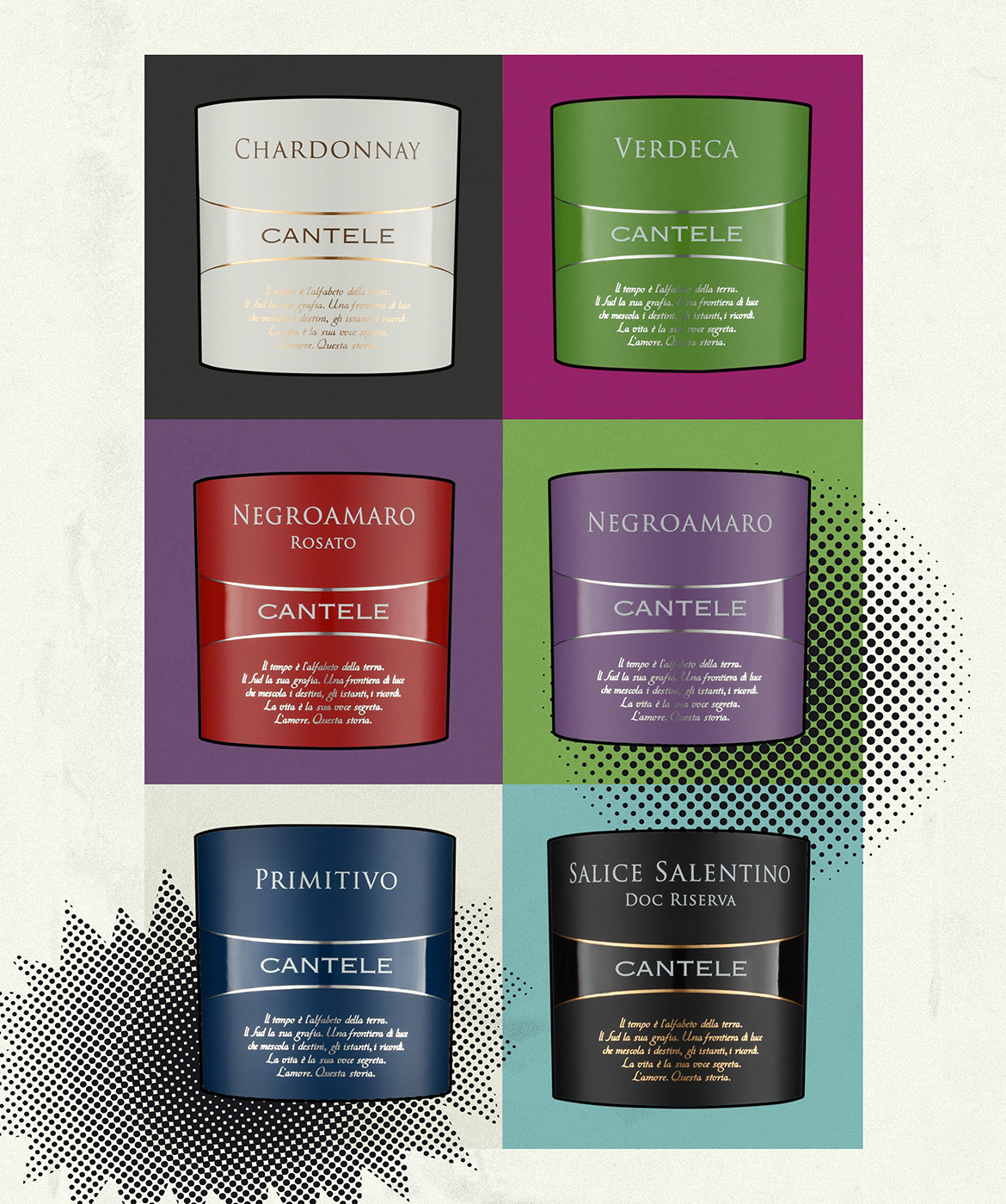 Wine Art
Just like domino tiles, the rich colors of the Cantele labels line up like a work of art by Andy Warhol.
But while Warhol liked to depict the same subject with different colors, here are the actual labels in an image that celebrates the Cantele line of wines, a style that like to call "POP."